[ 2-5 October 2016 - Aiken, South Carolina, USA ]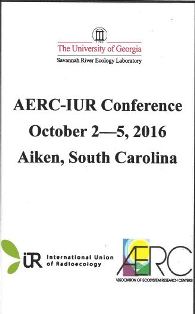 AERC-IUR Workshop on
Integration of Ecosystem Science Research
into Radioecology in the Nuclear Age
OBJECTIVES
The need to organize this Workshop on "Integration of Ecosystem Science Research into Radioecology of the Nuclear Age" emerged from discussions held during the former IUR Consensus Symposium on "Ecological impact of radiation on population and ecosystems" that was held in Miami in 17-19 November 2015. From the first consensus statement achieved at this Symposium – "Successful protection of the environment depends on the protection of natural populations, their dynamics, species interactions and contributions to ecosystem functioning. Ecosystem approaches are needed to support these protection goals" – it was recognized that better integration of ecosystem science into radioecology would be very profitable. AERC (Association of Ecosystem Research Centers) and IUR (International Union of radioecology) therefore decided to hold a joint Workshop, kindly hosted by Savannah River Ecology Laboratory (SREL) at Aiken (South Carolina, USA) where a broad audience of radioecologists, ecosystem ecologists and toxicologists has been invited to brainstorm. The goal of the workshop was to facilitate networking of scientists working in the areas of radioecology and ecosystem research and to produce a white paper for publication stemming from recommendations generated at the event. The first day of the Workshop was arranged to provide a number of focused talks on topics that should give a broad overview of the challenges to integration of ecosystem ecology into radioecology and risk assessment. Currently, the output synthesis and white paper resulting from the discussions are still in process.
PROGRAMME
Monday, October 3
Tuesday, October 4
08:30 AM Orientation to Workshop Activities
09:00 AM Breakout Groups
10:30 AM Break
10:45 AM Breakout Presentations
11:45 AM Working Lunch - Breakout Groups
01:15 PM Breakout Presentations
02:15 PM Breakout Groups
03:15 PM Break
04:00 PM Breakout Presentations
Wednesday, October 5



08:30 AM Summary Group Session
- - - - - - - - - - - - - - - - - - - - - - - - - - - - - - - - - - - - - - - - - - - - - - - - - - - - - -
PROCESS

Day II - Breakout Process:
Workshop participants were divided into one of six Breakout Groups (assigned below) to participate in a series of three Breakout Sessions. Each Breakout Group contains a mixture of radioecologists and ecologists who work at multiple biological scales (e.g., ecosystem to atom).
Each Breakout Group must answer during the three Breakout Sessions (One question set per Breakout Session) three primary question.
Following each of the three Breakout Sessions, there was a Presentation Session for each Breakout Group to present its answers to the questions provided for each Breakout Session. Each Breakout Group was assigned a group leader (L) to keep things on track and a group recorder (R) to write down the answers for the Breakout Group and to present the answers generated by the Breakout Group in the Presentation Session. Each recorder had 10 minutes to present the answers generated by each Breakout Group.
There will be 4 Observers who were circulating among the Breakout Groups to listen in and assist as needed.
OBSERVERS

Breakout

Group I

Breakout

Group II

Breakout

Group III

Breakout

Group IV

Breakout

Group V

Breakout

Group VI

Brechignac

Barnthouse (L)

Matthews (L)

Glenn (L)

Wood (L)

Kapustka (L)

Mothersill (L)

Bradshaw

Seymour

Bonisoli-Alquati

Ishida

Gladfelder

Martinez

Mihok

Hinton

Pryakhin

Powell

Janick

Kuhne

Bonisoli-Alquati

Shkvyria

Rhodes

Arnone

McKee

Kautsky

Laptev

Clement

Condon

Rypstra

White

Hendricks

Johnson

Crowl

Ward (R)

Beasley (R)

Bryan

Seaman

Zimmerman

Dharmarajan

Hobbie

Love

Coutelot

Parrot (R)

Capps (R)

Lance (R)

Scott

Mills

Newman (R)

Fletcher

Martin

Flynn

Aubrey
Day III Summary Process:
On the morning of Day III, three Observers from Day II leaded three Summary Groups (assigned below) to take the answers generated by the six Breakout Groups on Day II and draft an independent set of Summary Answers to each set of primary questions (one question set per Summary Group). Each Summary Group had a leader (Observer, L) and a recorder (R) who composed the Summary Answers for the Summary Group. These Summary Answers were used by the Observers to generate the initial white paper, which we are targeting for publication as a product of this workshop.
Summary Group I-

Question I

Summary Group II –

Question II

Summary Group III –

Question III

Brechignac (L)

Bradshaw (L)

Hinton (L)

Pryakhin

Bonisoli-Alquati

Ishida

Glenn

Mothersill (R)

Seymour

Barnthouse (R)

Gladfelder

Martinez (R)

Kuhne

Powell

Clement

Wood

Mathews

Mihok

Janick

Kautsky

Kapustka

Condon

Shkvyria

Laptev

Bryan

Johnson

Newman

Rypstra

Arnone

McKee

Crowl

White

Hendricks

Seaman

Ward

Beasley

Coutelot

Zimmerman

Dharmarajan

Lance

Parrot

Capps

Fletcher

Mills

Love

Hobbie

Martin

Flynn

Scott

Aubrey
SCIENTIFIC QUESTIONS To Guide Discussions And To Support Development Of A White Paper On "Integrating Ecosystem Research Into Radioecology"
BREAKOUT SESSION I
QUESTION 1: How Can Ecosystem Science Support Ecological Risk Assessment?
Are ecosystem level endpoints currently used in ecological risk assessment in any form?
IF YES THEN:
Are extrapolations from organismal health to ecosystem health possible, justifiable and scalable?
IF NO THEN:
Should we account for ecosystem resilience in ecological risk assessment, and how?

Are there direct, quantifiable ties between organismal health and ecosystem health?
BREAKOUT SESSION II
QUESTION 2: What Ecosystem Level Endpoints Potentially Could Be Used For Radiological Risk
Assessment?
What advantages may there be to using ecosystem endpoints associated with radiological stressors in ecological risk assessment?

What ecosystem attributes would be expected to reflect responses to radionuclide stressors and; are there ecosystem responses that would be expected to be unique to stressors such as radionuclides vs other potential contaminant?

Can Individual and/or population level endpoints be tied to the quantifiable ecosystem endpoints identified above for radionuclides?
BREAKOUT SESSION III
QUESTION 3: What Inference Strategies and Associated Methodologies Would be Most Appropriate to
Assess the Effects of Radionuclides on Ecosystem Structure and Function?
What role can statistical inference play in evaluation of ecosystem level endpoints of potential value to risk assessment associated with radionuclide exposure?

What statistical methodologies (e.g., deductive inference, experimental manipulation, macro/mesocosm approaches, modeling) are most likely to produce data that are both defensible and of utility for risk assessment of radionuclides at the ecosystem level?